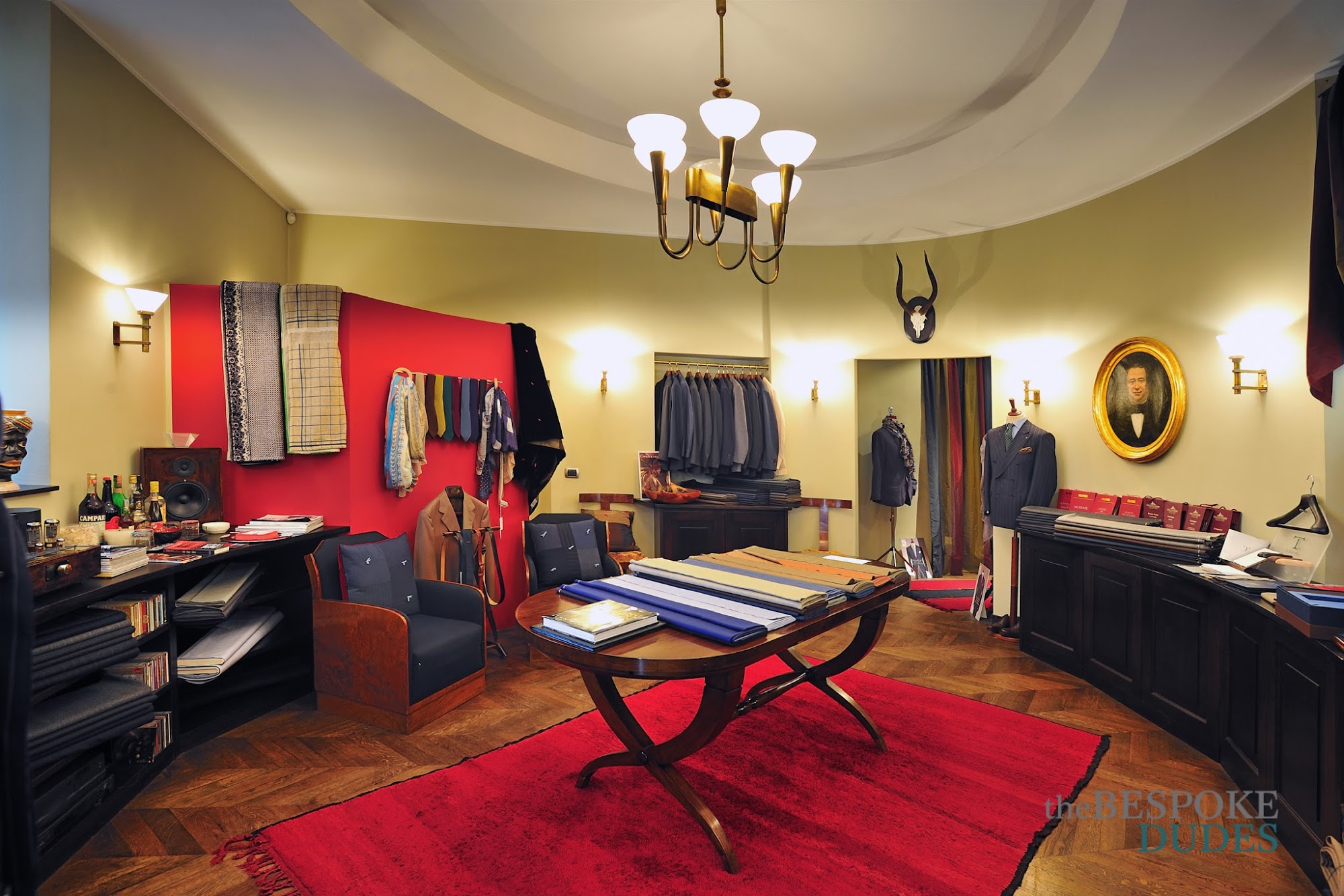 THE BESPOKE DUDES
A Conversation with… Federico Ceschi a Santa Croce
17 Novembre 2012 Fabio Attanasio
I schedule a meeting with the Count Federico Ceschi a Santa Croce and I meet him in his elegant atelier in Via Chiossetto, Milan. Books, classical music, fabrics, blazers, silk pocket squares and even historic fashion styling notes belonging to the Master Domenico Bombino, an excellent representative of the Apulian Sartorial School in the heart of Milan. To those concerned about the high prices he replies with the "Red Label", a more economic line, only aimed at young men who don't want to renounce a bespoke suit. Click on "read more" for the whole interview.
Prendo appuntamento con il Conte Federico Ceschi a Santa Croce e lo incontro nel suo elegante atelier in Via Chiossetto, Milano. Libri, musica classica, tessuti, giacche, accessori, pochette in seta purissima orlate a mano e appunti di sartoria del Maestro Domenico Bombino, un eccellente rappresentante della scuola sartoriale pugliese nel cuore di Milano. A chi si preoccupa del prezzo risponde con la "Red Label", una linea più economica, dedicata solo ai giovani che non vogliono rinunciare al fascino del "su misura". Cliccate su "Read more" per leggere l'intera intervista.
Who: Mr. Federico Ceschi a Santa Croce, former sales manager at Mila Schön and General Manager at Ballantyne Cachemire Italy, is currently the owner of N.H. Sartoria. The tailor behind the scenes is Mr. Domenico Bombino, from Apulia, south of Italy: in the 70's he opened a workshop in Via Pontaccio, Milan and was the main competitor of Mr. Caraceni.Mr. Bombino was the tailor of the artists living in Brera neighbourhood, whereas Mr. Caraceni was the tailor of the financial world. Those artists used to pay their suits with paintings, thus he can now boast a priceless collection of works of art by Dova or by artists of the same level. Ceschi and Bombino met when the last one joined Mila Schön and together they launched the first menswear collection of the Company. N.H. stands for "Nobil Homo" and was founded in 2003.
Chi: Federico Ceschi a Santa Croce, ex sales manager in Mila Schon e General Manager in Ballantyne Cachemire Italia, è attualmente il proprietario di N.H. Sartoria. Domenico Bombino, pugliese, è il sarto dietro le quinte: negli anni '70 aveva aperto una sartoria in Via Pontaccio a Milano ed era il principale concorrente di Caraceni. Bombino era il sarto degli artisti di Brera, mentre Caraceni aveva una clientela proveniente in prevalenza dal mondo finanziario. La storia narra che quegli artisti pagavano i loro abiti con quadri, motivo per il quale il sarto di origini pugliesi può oggi vantare un'inestimabile collezione di opere d'arte del Dova o artisti del medesimo calibro.  I due si sono conosciuti quando il Bombino è entrato in Mila Schön e insieme hanno lanciato la prima Collezione Uomo della compagnia. N.H. sta per "Nobil Homo" ed è stata fondata nel 2003.
What makes your suits so special? We only use Italian fabrics (Vitale Barberis Canonico among others) and I personally select them for every season. The blazer is always unlined, even for the winter. "A jacket has got to be more charming inside than outside". We also have a "Red Label" for young men who don't want to renounce their fathers' elegance: in this case, only one test, instead of three, is needed to take the measurements. At the beginning of every season, we send to our customers' home the "Dress Code", a depliant with new fabrics, specifying features, ideal circumstances to wear them and tips on how to match them. This is the only advertisement we do. We also offer unique "without-fold ties" in cachemire or supercachemire, also on request (pictured below).
Cosa rende i vostri abiti così speciali? Utilizziamo solo tessuti italiani (Vitale Barberis Canonico tra gli altri) ed li selezioniamo personalmente per ogni stagione. Il blazer è sempre sfoderato, anche d'inverno, perché una giacca deve essere più affascinante dentro che fuori. Abbiamo anche una "Red Label", per i giovani che non vogliono rinunciare all'eleganza dei loro padri: in questo caso, è prevista una sola prova, invece delle canoniche tre. All'inizio di ogni stagione, inviamo a casa dei nostri clienti un "Dress Code", un depliant con i campioni dei nuovi tessuti, specificando le loro caratteristiche, le occasioni più indicate per indossarli e consigli su come abbinarli. Questa è l'unica "pubblicità" che facciamo. Offriamo inoltre delle esclusive "cravatte senza pieghe", in cachemire o supercachemire, anche su richiesta (vd. foto sotto).
How would you describe your style? Our style is classic "with a twist". We do a lot of research both on new and old fabrics.
Come descriverebbe il suo stile? Il nostro stile è classico "con un twist". Facciamo molta ricerca su tessuti sia vecchi che nuovi.
A source of inspiration: a source of inspiration is my Austro-Hungarian father, whom I inherited my passion for menswear from. My uncle was very classy and used to say: "Real elegance is not visible, but you know it is there". He once bought for me a pair of golden collar stays, to be inserted into specially made pockets on the underside of the shirt collar: nobody would have seen them, except me. That was a lesson of elegance that I will not forget: don't show off.
Una fonte d'ispirazione: una fonte d'ispirazione è di sicuro mio padre, di origini austro-ungariche, dal quale ho ereditato la mia passione per l'abbigliamento da uomo. Anche mio zio era molto elegante e ricordo una sua frase: "La vera eleganza non si vede, ma si sa che c'è". Una volta mi regalò un paio di bacchette da camicia in oro, da inserire in un'apposita tasca nella parte inferiore del colletto: nessuno le avrebbe viste, eccetto me. Quella fu una lezione di eleganza che difficilmente dimenticherò: non ostentare.
A style tip: be consistent with your personality. Don't follow seasonal fashion. Customize your clothes, so that they fit you properly.
Un consiglio di stile: essere coerenti con la propria personalità; non seguire le mode stagionali; personalizzare i propri vestiti per ottenere una vestibilità appropriata.
Conte Federico Ceschi a Santacroce
An eccentric request from a customer: a groom-to-be ordered for his marriage ceremony a black suit with orange edges, in the same color and fabric used for his lady's dress.
Una richiesta eccentrica di un cliente: un signore mi ha ordinato per il suo matrimonio una giacca nera con bordi arancioni, nello stesso tessuto e colore dell'abito della sua futura sposa.
The Midnight Blue Smoking
N.H. Sartoria
Via Chiossetto, 2
20124 – Milano
Tel.: +39 02 780 531
Ph: Enrico Magri (pictures 1, 2, 7); Fabio Attanasio